The Yucatan Peninsula, a place full of natural beauty and ancient culture, is home to the popular vacation destinations, Cancun, Riviera Maya and Cozumel. With the birth of Cancun in the early 1970s there was a great boom in tourism causing the region to grow at a rapid rate that may have been too fast for its own good. It was in this era of the 1970s that not many places throughout the world were actively concerned with environmental protection, perseveration or sustainable living. However, in retrospect, like many other vacation destinations, the Yucatan Peninsula has seen the light and has become very active in these missions.

Today, flags displaying environmental awards and alliances are found flying at many hotels and resorts. So, if you are a green-minded traveler, look for logos of the Green Globe Awards, the Rainforest Alliance and the World Heritage Alliance on hotel and resort websites while planning your next trip. All three of these organizations have a mission to promote sustainable tourism and environmentally-conscious practices.
Hotel and resort accreditations are not the only measures being taken in the area. Excursions for tourists and local organizations within the Yucatan peninsula are becoming more and more involved in promoting environmental awareness. Eco Parks Xcaret and Xel-Ha have opened their doors for the entire world to see the overwhelming natural beauty of the region that must be preserved. To promote awareness of important enviornmental issues, Xcaret is working with the organization Flora Fauna y Cultura de Mexico, A.C. by setting up donation boxes in every Cancun Starbucks and passing out free postcards painted by children. There are also organizations on both Isla Mujeres and the mainland that work to protect sea turtles and the areas of beach they need to nest their eggs.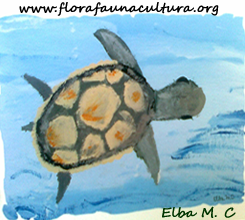 Environmental awareness and eco-friendly practices are spreading worldwide. More than ever, this is now the trend, especially with the recent BP oil spill and the concern of global warming. Nobody should think that the same practices have not spread to the warm white sand beaches of the Mexico Caribbean. They have and they have done so full force.
---