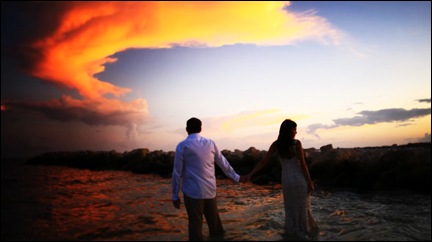 An unforgettable sunset at the Hacienda Tres Ríos Resort.
Picture: Del Sol Photography
One of the most sentimental days of the year is only a few weeks away and a unique gift, romantic getaway, or special idea this Valentine's Day is essential for making this day truly memorable for you and your Valentine. Forget the traditional chocolates and flowers, and choose to reconnect with that special someone in body and mind with a refreshing spa vacation overlooking the crystal-clear, turquoise-blue Caribbean Sea.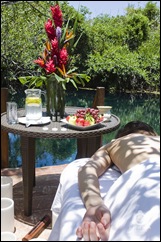 Located on ancient Mayan lands, Cancun and the Riviera Maya are influenced by wonderful Mayan traditions and practices. Resorts with spas, such as Ya'ax Che Spa, offer travelers the opportunity to experience the healing techniques of this ancient Mayan civilization for a truly unique spa experience. Spa treatments combine ancient Mayan practices and advanced technology to balance the body and bring you back to life. In a place where natural therapeutic techniques are valued, a traditional massage or a Zen, warm stone massage can rebalance, refresh, rejuvenate, and relax the body, mind, and soul.
Ya'ax Che Spa is one of the few spas in Cancun that offer the traditional Mayan purification and relaxation sauna known as temazcal. The word temazcal comes from two words: "temaz," in Nahuatl, which means bath; and "calli," which means house. This ancient Mayan steam bath has been used for centuries to cure ailments and as a purification ritual to prepare individuals for major life transitions, such as marriage. The sensory experience of temazcal is enriched by the use of natural ingredients, such as herbs and "copal."Traditional, sacred sounds combined with the expert guidance of our shaman enliven your senses to enrich the connection with your special someone.
---