Haiti needs us! In this type of situation, we can easily help in the following ways:
– By going to a collection center, such as the Red Cross and bringing canned food, bottled water, hygienic items, equipment and medical supplies: gauze, pain medications, antidiarrhetics, antibiotics, and more. (Check to make sure the expiration date is at least 6 months from today).
– By donating money to bank accounts identified by major media communications in your respective country.
– By following online social media (Twitter, Facebook), where users come together to create new forms of aid.
Examples:
Twitter, second by second reporting.

Facebook, groups and pages offering support.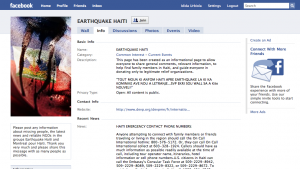 If you have other ideas to help Haiti, feel free to share them with us here.
---