Cancun for many, is a destination with all inclusive luxury hotels and exquisite nightlife. We of course can't forget its crystal blue waters and soft white sand; But still Cancun and the Mexican Caribbean has much more to offer
Archaeological Sites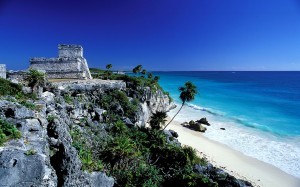 The archaeological and historical wealth of Mayan ruins is certainly a unique attraction. The hidden history of a pyramid, the ability the Mayan civilization had and how they created instruments and even buildings for astronomical information. Wrap yourself in the mysteries of their history and legends, and enjoy the architecture from the different periods of their civilization. The Mexican Caribbean holds one of the most famous, and one of the 7 wonders of the World, Chichen Itza.
Natural Beauty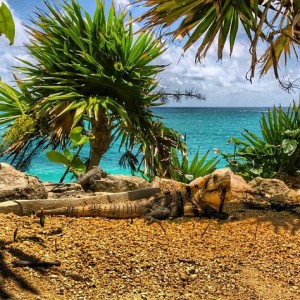 The Mayan jungle is definitely an amazing and important piece of Cancun and the Riviera Maya. From zip lines at great heights overlooking the sea, or the lush vegetation there is something for adventure seekers and nature lovers alike here. There are also many places to go kayaking through canals, sailing, kite surfing, paddle-boarding, among other activities at the beaches and in the ocean. Many parks and tours take full advantage of the wonderful nature available here and will allow you to enjoy all these activities in one place.
Cenotes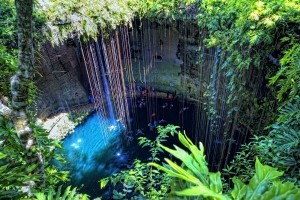 No other place in the world has the largest system of underground rivers available in the Yucatan Peninsula. This allows many cenotes to exist along this beautiful peninsula. There are several types of cenotes, and one for everyone. From ones for the whole family, just freshen up, or if you are looking (for experienced divers) to do some diving, cave diving in cenotes as well. Cenotes are certainly attractive places, not only for their natural beauty, but for all the information from the past that they hold. One of the cenotes in Quintana Roo, named the Hoyo Negro (Black Hole), is where the skeleton of Naia was found and yielded helpful information about the early American settlers. There is also the Sacred Cenote (Cenote Sagrado) at Chichen, full of legends and history of the events surrounding this area.
Hospitality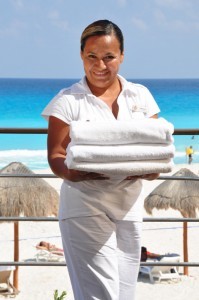 In Cancun and the Riviera Maya you can be sure that the phrase, "Mi Casa Es Su Casa", is a reality. This destination seeks to provide every visitor with a feel of home. Many hotels here go the extra mile to exceed the expectations of its guests; Everywhere from Cancun to Tulum hospitality, service, and warmth are some things that distinguishes this beautiful paradise from many others.
Let us pamper you, and dare to discover what the Mexican Caribbean has to offer you. No matter how many times you come you will always find something new, something more exciting for you each time. You still haven't booked your reservation yet? Check our offers and find the best deals for you!
---