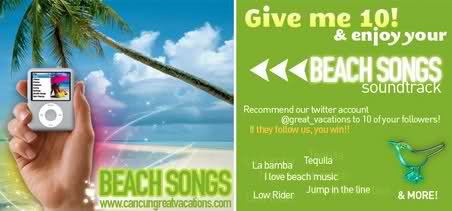 For your next vacation in Cancun, enjoy the perfect mood for being on the beach. We´ve created a Beach Songs Soundtrack just for you.
1. I love beach music – The Embers
2. La Bamba – Richie Valens
3. Tequila – The Ventures
4. Jump in the Line – Harry Belafonte
5. Red Red Wine – Bob Marley
6. Sweat (A la la la la Long) – Inner Circle
7. Low Rider – Carlos Santana
8. Sandy Beaches – Delbert McClinton
9. Champagne – 311
We know you want it! How can you get it? Here´s what to do:
TWITTER
Recommend our twitter account @great_vacations to 10 of your followers.
FACEBOOK
Recommend our Facebook Fan Page with 10 of your friends.
If they follow us (on twitter) or become our fans (on facebook), you will have your own beach party next time we see you here. IT´S THAT EASY!
Beach Love to you.
---